We know what kind of internet offer you are looking for. GP has given you a great internet package. GP Internet Offer 2019 is a low-cost internet pack. And GP Bangladesh is the first mobile network service provider. Grameenphone released the best internet offer for 2019. The following all GP internet Offer.
GP Internet offer 2019 – More All Internet Package is provided
GP 1GB 9Tk offer-
GP 1GB internet is only 9 Taka! If you want to use the internet offer, you can purchase the pack. But every day 56 million people are connected to this network. You can buy 1GB worth 9 Taka. To get this offer, dial * 121 * 5085 # or * 5020 * 2217 #. Internet validity is 28 days. With this internet pack you can browse, download, Facebook, YouTube, and all other things. Check out the following screenshot: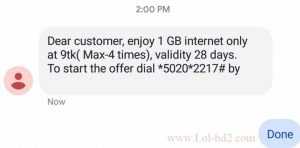 GP Internet offer 2019: How to buy 1GB @ 9Tk offer
Take this offer Maximum 4 times
This offer for a limited time
Used this offer 24 Hours.
GP 500 MB 5TK Offer: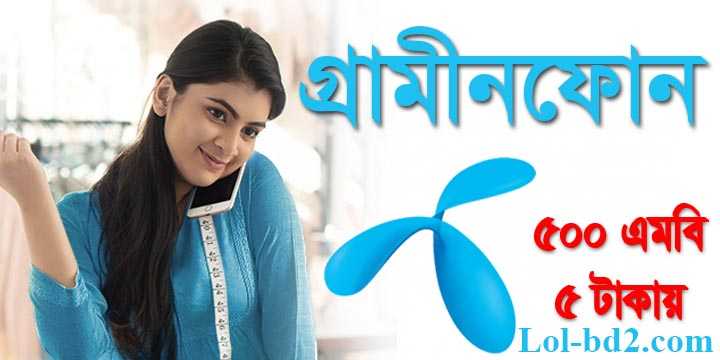 Customers of Grameenphone will download the "MY GP APPS" application for the first time, and get 5 Taka 500 MB internet. Download GP application from Google Play Store. And for internet registration, 500 MB for 5 Take will be available. You can buy internet from "MY GP APPS" in GP, 3 days validity. This pack gives GP once.
GP 1 GB 19 Taka-
GP subscribers will be able to buy 1 GB internet with 19 Taka. This offer is a 1 GB internet offer. If you want to buy the offer, you can purchase the USSD code by dialing it. GP 1GB 19Tk offer. To get this offer, dial * 5020 * 2218 #. Expiry 7 days.
GP 2 GB 44 Taka
One of the best packages for Grameenphone Internet Offer 2019, with this offer you can browse and download the Internet at a fast pace. GP 2GB internet with just 44 Tk. Grameenphone's regular internet Offer.GP 2GB internet offers active for dial * 121 * 3242 # or Recharge 44 Tk. Expiry 3 days (72 hours)
GP New Package 2019 – GP 1GB 86 Taka
Grameenphone 1GB internet at only 86 Taka. This is a data pack in the GP regular pack. If you think this offer is the best offer, then you can purchase the data pack. Data validity 7 days. Dial * 121 * 3056 # to buy internet offer.
GP 4 GB internet only at Tk 179 –
Grameenphone is running the Internet Dhamaka Offer. 4GB internet at 179 Taka. These offers can be enjoyed by Grameenphone customers. The amount of internet is 4 GB. How to buy the offer. Dial * 121 * 3084 # to get the offer or recharge @ 179Tk. The data pack will cost Tk 179.
We are thinking about how a customer can buy the internet very easily. A person can easily purchase internet packages through this website; We have kept it very easy. Can easily buy and activate. About 50 percent of the GP internet is coming to Bangladesh. GP offers all types of Internet Offer / GP SMS Offer 2019 / GP Minute Offer. Every day thousands of people search Google for the purpose of using the GP internet. Our activities for them.