GP SMS Pack 2021: Today I will discuss with you about GP Excellent SMS Offer 2021. All SMS offers will come in easy and you will be able to purchase at cheaper prices. GP is ready to provide all services to the customer every day. Today has released new SMS offer as per customer demand.
Customers can safely purchase and use all GP SMS packs from here. This SMS offer has been collected from the official website of Grameenphone. GP subscribers can enjoy all the SMS packs given here.
If you have any questions about this offer, you can comment to us. I would say it will be useful if you purchase the SMS pack from here. We have provided all the SMS packs of GP below-
GP SMS Pack 2021:
We have collected important GP SMS packs for you. GP has updated the SMS offer again in December 2021. This post will help you to get GP SMS Pack and purchase at cheap price.
From here you can buy GP excellent SMS package at low price. You will be able to get low price sms offer by reading this whole article. Below is all the information related to GP SMS Pack 2021. Which will help you to give the necessary information.
GP Regular SMS Pack
Get Best GP SMS Pack
Check - Airtel SMS Pack
Grameenphone Flexi Plan
Grameenphone has made Grameenphone flexi-plan on their official website. You can buy SMS packs as per your requirement through there. There you can buy all types of GP SMS packs. Today I will discuss with you the details of how to buy Grameenphone flexi-plan. Moreover, there will be a link provided that you can purchase offers by clicking on that link.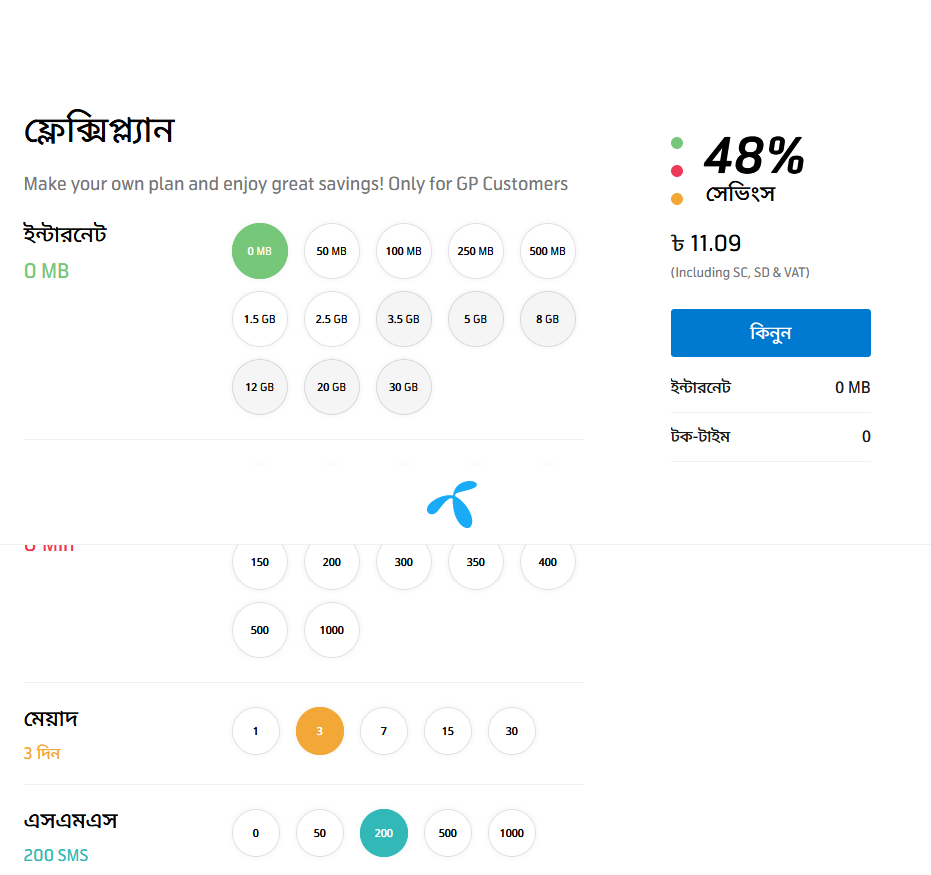 GP 2Tk 25 SMS (Any Local Number) :
GP has released 25 great SMS packs in their new update. If you want 25 SMS for 3 days for only 2 Taka you can buy from here. Here you can buy cheap SMS packs from Grameenphone. All 25 Grameenphone subscribers can purchase 25 SMS packs. It will cost you only 2 Taka. If you like GP SMS Pack, you can buy this offer here.
To Activate this offer dial, *121*1015*2#
Multiple times buy this offer.
SMS Validity 3 Days.
Grameenphone prepaid and postpaid customers will be able to receive 25 SMS at 2 taka.
GP Bundle Pack: 25 SMS @ Tk 2
SMS any local number. (24 hours)
Limited time SMS offer.
Skitto customers will not be able to enjoy this pack.
Check - Robi SMS pack
GP 100 SMS 5Taka :
I will show you today how to buy GP 100 SMS with only 5 Taka. This is GP's Amazing offer. You can enjoy buying GP 100 SMS pack with just 5 Taka. It will help and benefit you.
To buy this pack dial *111*10*06# Or Type "START" to send 9999 number.
SMS bundle validity will be 3 days.
All GP Prepaid (Vallge Phone, Excluding GPPP & BPO) customers can get this offer.
How To Check GP SMS Balance Dial *566*2# (Free)
Djuice customers can get this offer type "D" and send to 999 number.
Customers will be charged BDT 5 (+ VAT)
GP 100 SMS only 7 Taka (Regular Pack) :
New braking for GP SMS users. A few days ago, GP released 100 SMS offers for all prepaid customers. Excellent 100 SMS pack you Can Use (GP-GP). You can buy GP 100 SMS at a cheaper price with only 7 Taka. This SMS Pack is expiring 04 days. If you need GP SMS Pack then you should enjoy this SMS Bundle Pack.
To get this offer, dial *121*1015*1#.
GP SMS offer expires 04 days.
This offer is priced at 7 Taka.
Must use this offer (GP-GP).
+ VAT associated with this offer.
You can purchase multiple times.
The rest of the SMS will not be used after the expiry.
Grameenphone 50 SMS Offer 2021 :
Grameenphone has published 50 Amazing SMS packs. This is a low cost and short term SMS package. All GP customers will be able to buy this offer with 2 Taka. There are some rules to follow in order to buy this offer. And send a message from your mobile. If you want to know about GP SMS Pack then you can call 121 to know.
Check - GP Internet Packages 2021 
First, go to your mobile message option. Then go to the message option and type "S3" and send 8426 to this number.
SMS period is 1 day.
You can use SMS package from GP to GP.
Cannot be used on other operators.
Terms & Condition :
You can buy multiple times during the campaign period, even before the validity period ends.
Customers will be able to enjoy this offer after receiving confirmation SMS.
Your Main Account will be deducted after purchasing the SMS.
After the free offer expires, customers will be able to receive SMS at regular charge.
Not applicable to international operators!
Grameenphone Bangladesh
The Bangladesh Telecommunications Regulatory Commission is the BTRC. They control every mobile network operator. Grameenphone is the largest telecommunication company in Bangladesh. The company began operations on 26 March 1997. Now Grameenphone is the largest mobile internet service company in Bangladesh with around 07 million subscribers. Every day, the number of customers is increasing and they are getting service from them. On Grameenphone Page they publish new Internet Offer / Minute Offer / SMS offer. You will find GP SMS Pack 2021 update (100%) here.
Check - Banglalink Bondho SIM offer
How to Buy GP SMS Offer 2021?
A big and general question for GP users, how do I buy a GP SMS offer? Here the full information of this question will be discussed. If you want to purchase the GP SMS Pack and GP pack, you can buy the SMS and code from the mobile message option. We have made the offer for every SMS offer. See full offers and use offers. If a new SMS pack is added, we will add the new method to the offer. Thanking to see our full post.
If you have been using this post for your benefit then you must share Facbook, Twitter. Like us on our Facebook page and stay tuned. From this website, you can see offers from other operators.
More Internet Offer: