GP SMS offer
Skitto SMS Pack | 100 SMS @ 10Tk | Latest Offer 2019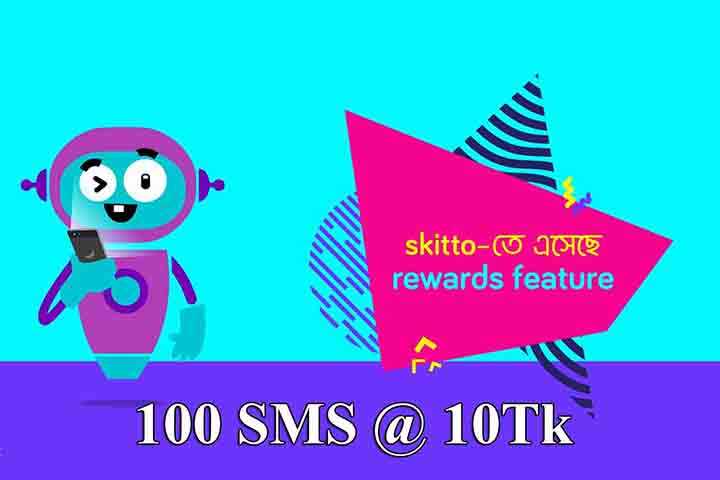 How To Buy Skitto SMS Pack. The price of 100 SMS is only 10 Taka. This SMS pack can be used by all SKitto customers. If you want to buy more SMS at low cost then use Skitto SIM. You can buy the lowest cost of SMS in Bangladesh.
This company is a Grameenphone service provider. Grameenphone company operates fully. Skitto SMS Pack 2019.
Skitto SMS offer: How to buy 100 SMS 10Tk Packs
All information costs include 5% Supplementary Duty (SD), 5% VAT and 1% Savachage.
An automatic renewal, the standard SMS rate will expire.
SMS packs validity will start from the exact moment of activation and run its full duration.
Skitto SMS Pack কিভাবে ক্রয় করবেন। 100 SMS এর দাম মাত্র ১০ টাকায়। এই ‍ SMS প্যাকটি সকল SKitto গ্রাহকরা ক্রয় করে ব্যবহরা করতে পারবে। যদি কম খরচে বেশি SMS ক্রয় করতে চান তাহলে Skitto সিমে ব্যবহার করুন। বাংলাদেশের সবচেয়ে কম খরচের SMS ক্রয় করতে পারবে।
এই কেম্পানীটি হলো গ্রামীনফোনের একটি সার্ভিব। সম্পূর্ণ ভাবে পরিচালনা করে থাকে গ্রামীনফোন কোম্পানী।
Skitto সিম অফার: Skitto100 SMS 10Tk
সকল তথ্য মূল্য 5% সাপ্লিমেন্টারটি ডিউটি (এসডি), 5% ভ্যাট এবং ১% সাচার্জ অন্তর্ভুক্ত ।
কোন স্বয়ংক্রিয় পুনর্নবীকরণ, মান SMS হার মেয়াদ শেষ হবে।
এসএমএস প্যাক বৈধতা অ্যাক্টিভেশন সঠিক মুহূর্ত থেকে শুরু হবে এবং তার পূর্ণ সময়কাল চালানো হবে।
More offer: