Teletalk offer
Teletalk Bondho SIM offer! Free 2GB Data | 3GB 38Tk (30 Day)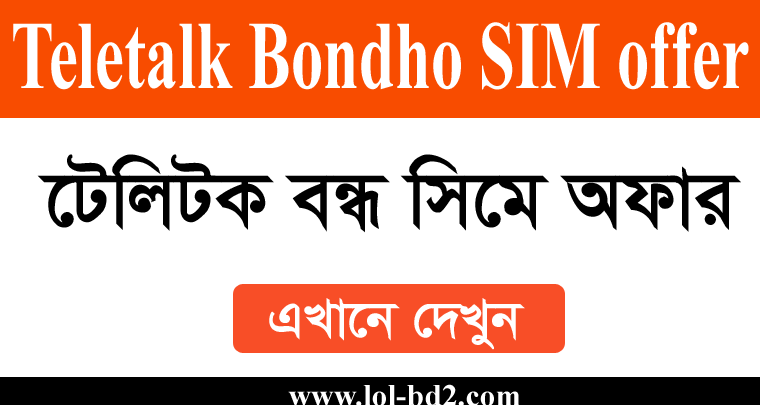 Teletalk Bondho SIM Offer 2019. Turning off the Teletalk SIM, you can get 3 GB of internet at only 38 Taka. Great internet offer with a close connection. Teletalk Bangladesh's own network service company. Recently update this data offer. Teletalk internet Offer the best offer. Use your Teletalk SIM – Keep the country's money in the country.
Teletalk Bondho SIM Offer :
The first 49 Taka recharge customers will be able to enjoy the offer and will be credited to the main account of the customer. More data pack is – GP Internet offer
With free 2GB data and 100 SMS (at any local number), only the first 49Tk available for recharge.
First 49 Taka Recharge :
47 paisa min (any operator), 30 days.
2 GB internet free, valid for 15 days.
100 SMS (at any local number), validity 30 days.

Teletalk off sim offer -Trams
Teletalk SIM off from 90 days or more, is included in this offer.
To know whether your connection is included in this offer, go to the message option from any Teletalk number and send your number to 112. [Example 01500000000 to send 112 Number]
Call tariff of the existing package will be applicable if the subscriber does not recharge 49 Tk after expiration. Exter offer is a Robi Internet offer 2019
For the second time at 38 Taka recharge :
Teletalk Bondho SIM 38 Taka Recharge for 3GB data, Expiry 7 days.
45 Taka recharge, 1 GB internet, validity 30 days.
77 Taka recharge, 2 GB, validity 30 days.
Special Data Offer (Recharge Offer) :
Teletalk 3Gb Internet 7 days 38Tk
1Gb Internet 30 days 45Tk
2Gb Internet 30 days 77Tk
Check data balance dial *152# or Type U send to 111
Referral amount recharge customers can purchase data packs.
Recharge value includes VAT, SD and surcharges.
Teletalk Sagotom Internet Offer :
Teletalk 1GB Internet 30 days 46Tk Recharge 46Tk or Dial 11146#
2GB Internet 30 days 84Tk Recharge 84Tk or Dial 11184#
3GB Internet 5 days 42Tk Recharge 42Tk or Dial 11142#
Data Check Dial *152# or Type U send to 111
Teletalk Bangladesh:
BTRC controls all mobile network companies in Bangladesh including Teletalk. The BTRC was fully launched in 2001. They control every mobile network operator. Full name of this company – Teletalk Bangladesh Limited. Teletalk is a mobile phone service provider based in Bangladesh. It is a state-owned mobile company in Bangladesh. Teletalk began its journey on 29 December 2004. Many people in Bangladesh use Teletalk SIM. Bangladesh government is providing free Teletalk SIM to students. More and more internet is being provided to students at low cost. Currently, about 2 million people use Teletalk SIM. It is a Public Limited Company of the Government of Bangladesh.