Banglalink Offer
Banglalink Internet offer 2020 – All Banglalink Internet Package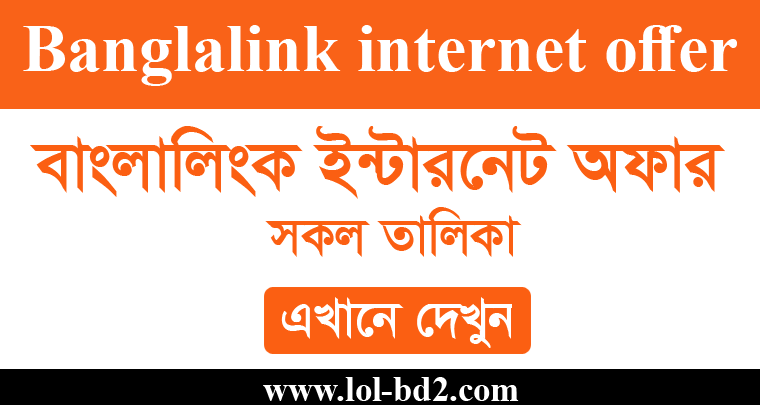 Today I will give you some excellent Banglalink internet offer 2020. Here you find low cost amazing bl internet packages and MB offer. I will share Banglalink super internet offers with you. If you have read this full article completely, you can safely get bl internet package from here.
Guys, are you tired to get Banglalink internet offers? You searched for a lot but couldn't find the right place. Come to www.lol-bd2.com website. Here we have collected Banglalink internet offers. Check out these internet offers so you can make a choice.
Check- Banglalink Bondho SIM offer
Banglalink is one of the most powerful telecommunication companies in Bangladesh. Established in 1995, this company offers a strong network of customers as well as internet and minute offers at low prices. People searching on internet how to get banglalink internet offer 2020 with low prices. Today I will try to give you some idea about bl offer.
Banglalink internet offer 2020:
Banglalink Internet Offer 2020 has already been updated in July. We release all data offers as per the new update. If you are find a great Internet Offer then you can select your favorite offer from this list. Here I have provided all the internet offers for you. So all the offers here are currently active, you can choose any data package.
Check- Banglalink Free internet offer
Following this list to buy a internet pack from all the packages of Banglalink internet Offer. From this list, customers will find out and know about all the Internet packages. Currently, I spend a lot of time making a list of the most wonderful internet packages. Which will benefit you. Hope you enjoy all these wonderful internet offers from here. I just made a list of Banglalink internet offer 2020 :
Data pack List:
Data
Package
Price
Activation
Code
Validity
2 MB
85 Paisha
*5000*519#
1 Day
3 MB
1.5 Tk
*5000*518#
1 Day
9 MB
Tk. 3
*5000*513#
1 Day
12 MB
Tk. 4
*5000*520#
1 Day
32 MB
Tk. 9
*5000*529#
1 Day
45 MB
Tk. 10
*5000*543#
1 Day
60 MB
Tk. 15
*5000*502#
3 Days
75 MB
Tk. 13
*5000*543#
4 Days
100 MB
Tk. 20
*5000*522#
7 Days
120 MB
Tk. 50
*5000*523#
30 Days
160 MB
Tk. 30
*5000*501#
7 Days
250 MB
Tk. 75
*5000*517#
10 Days
300 MB
Tk. 99
*5000*503#
30 Days
500 MB
Tk. 100
*5000*582#
7 Days
600 MB
Tk. 150
*5000*504#
30 Days
1 GB
Tk. 36
*5000*36#
4 Days
1 GB
Tk. 76
*5000*76#
7 Days
1 GB
Tk. 199
*5000*503#
30 Days
1GB
Tk. 210
*5000*581#
30 Days
1.5 GB
Tk. 275
*5000*511#
30 Days
2 GB
Tk. 49
*5000*49#
4 Days
2 GB
Tk. 209
*5000*581#
30 Days
2 GB
Tk. 350
*5000*506#
30 Days
3 GB
Tk. 99
*5000*799#
7 Days
5 GB
Tk. 108
*5000*108#
7 Days
4 GB
Tk. 500
*5000*508#
30 Days
8 GB
Tk. 900
*5000*509#
30 Days
10 GB
Tk. 199
*5000*199#
7 Days
15 GB
Tk. 1500
*5000*510#
30 Days
1 GB Youtube
Tk. 19
*5000*345#
2 Days
250 MB IMO
Tk. 10
*5000*725#
7 Days
100 MB Social pk
Tk. 07
*5000*576#
7 Days
30 MB Facebook
Tk. 1.5
*5000*414#
4 Days
Banglalink Internet Recharge Offer:
Here I am providing all the data of Banglalink internet recharge offers which you can recharge and enjoy. The following is a list of offers that can be made available through mobile recharge or dial code. We have mentioned the quantity, price and duration of the Internet there. You can recharge amount to following this list. I hope you can easily do this.
| | | |
| --- | --- | --- |
| Data Package | Price & Recharge | Validity |
| 500 MB | Tk. 36 | 7 Days |
| 1.5 GB | Tk. 99 | 7 Days |
| 2.5 GB | Tk. 129 | 7 Days |
| 1.5 GB 200 MB Bouns | Tk. 209 | 30 Days |
| 3 GB | Tk. 399 | 30 Days |
Banglalink 1GB offer:
I have created a new table separating 1GB internet offers from Banglalink. I have made the necessary arrangements to get 1gb internet offer. To activate requires the USSD Code and the equivalent money recharge. You see the lists :
Data
Package
Price
Activation
Code
Validity
1 GB
Tk. 36
*5000*36#
4 Days
1 GB
Tk. 76
*5000*76#
7 Days
1 GB
Tk. 199
*5000*503#
30 Days
1GB
Tk. 210
*5000*581#
30 Days
1.5 GB
Tk. 275
*5000*511#
30 Days
BL 1GB 36Tk offer: Banglalink has released 1GB internet offer for just 36 days validity 3 days. This is the cheapest pack among their 1GB internet offer. But the offer applies to all prepaid customers. You can take the offer by dialing the activation code. To get this offer dial *5000*36# Or recharge Tk 36. You can use this offer by activating. 1GB Internet can be used for any purpose.
Banglalink 1GB 76 Taka offer:
If you want to use more internet at a lower cost then you can get 1GB internet within a week. If you are looking for an internet package for a period of 07 days, then this offer will be good for you. The 1GB internet here is only 76 Taka. Reserve this offer to buy BDT 76 or dial *5000*76#. To know the remaining balance of the package, dial *5000*500#.
Click - Teletalk internet package 
Banglalink 1GB 199Tk offer: Looking for a 1GB Internet pack in the longer term. Bl provide for you 1GB internet pack for 30 days. It will cost only 199 BDT to carry 1GB data pack in one month. You can buy this offer from online and also using "My Banglalink App". Dial *5000*503# to avail Inter offer today. Customers can purchase the pack multiple times.
Bl 1GB @ 275 Taka: Banglalink has released 1.5GB of excellent internet offers. Customers offer 1.5 GB internet for just 275 Taka for long-term internet used. From here you can buy 1.5 GB internet for 30 days with 275 taka. Dial * 5000 * 511 # to avail this offer. The duration is 30 days.
Banglalink 2GB Internet Offer:
Floating in the tide of offers while the whole country is giving amazing all the internet offers. Only then do you take the necessary internet package. Here is a list of 2GB internet offers depending on customer preference. You see these packages and buy the package you need :
Banglalink 2GB 49Tk offer:
Today I will share 2GB internet pack. You can receive this offer if you need it. Their regular data offer is 2GB internet. Need to purchase the excellent internet offer just 49 Taka. Every customer can buy and enjoy 2GB internet package, and enjoy with this internet pack and share it with your friends. To avail this offer dial *5000*49#. The duration is 4 days.
Banglalink 2GB internet 209Tk offer: To always be happy with this awesome 2GB internet offer just know code and buy this, which expires 30 days. I will discuss with you this data pack in detail. You can get 2GB internet at just 209 Taka. Can be great as a monthly internet package. Buy this offer – 2048 MB Internet. To get this offer *5000*581#. This offer duration is 30 days.
Click- Airtel Bondho SIM offer
Banglalink Internet package 2020: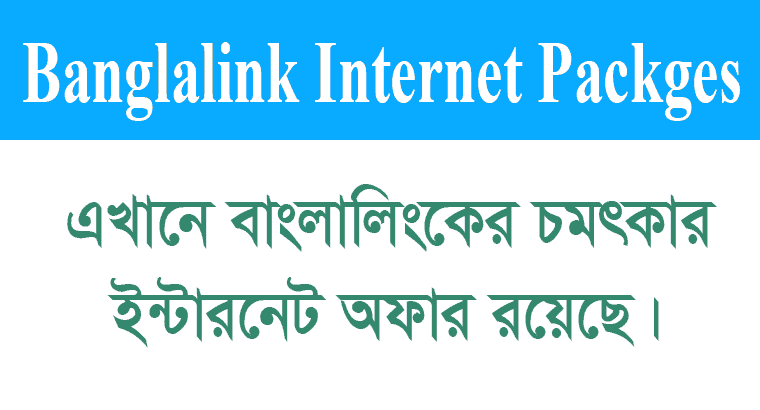 Every day many people search for Banglalink internet package. To fulfill their needs, BL has released new Internet packages. And they also worry about their safety. A customer can safely take these data packages from here. Here are many internet packages, buy internet packs of your choice.
Banglalink 3GB 99Tk offer:
One of the nice internet packages is – 3 GB internet at 99 Taka. As always, you can dial the USSD code and get the 3 GB Internet package. The 99 GB 3 GB data pack is applicable to all. Buy and use as needed. Customers can dial *5000*799# or recharge 99 Taka to avail this offer. The internet expires 07 days. You can buy 3GB internet offer from here.
Banglalink 5GB 108Tk offer: It is time for find best offer from all the great internet offers. This telecom company always try all-time champion for publishing the internet. Now you can pay 5 GB internet with only 108 BDT. And the Internet expires 07 days. Dial *5000*108# to avail Banglalink 5GB internet offer. Expiration is 07 days.
Banglalink 10GB 199Tk offer:
Now I have to show you 10 GB internet offer. Whose term is 07 days. You can have 10GB banglalink internet offer Amazing. They are offering 10GB internet package with just 199 Taka. Remember that this offer is really nice. If you would like to take this offer package from here, dial the USSD code. Also you can take recharge. Dial *5000*199# or recharge 199 Taka to avail this offer. Expiration is 07 days.
Click - Airtel internet offer 2020
Banglalink 15GB internet offer: Launched this 15GB internet offer for all user. They offered 15GB internet package for a period of 30 days only for 1500 Taka. To start this offer dial *5000*510#. The data expiration is 30 days. Can run anytime in 24 hours.
Banglalink Free Internet offer:
Banglalink offers regular internet packs as well as free internet. They provide free to customers. Now you can be one of these offers person. For that you have to follow some rules. If you follow the rules given here, you can also get Banglalink free internet offer service.
Banglalink Social Pack: Always try to brings great social pack for Facebook, Twitter, WhatsApp for all users. This Social Pack is applicable for all prepaid and call & control customers. You can use any social media you want. You must activate the data pack after seeing the correct offer.
Click - Banglalink SMS Pack
Facebook, WhatsApp, Twitter Pack (30 MB 1.5 BDT):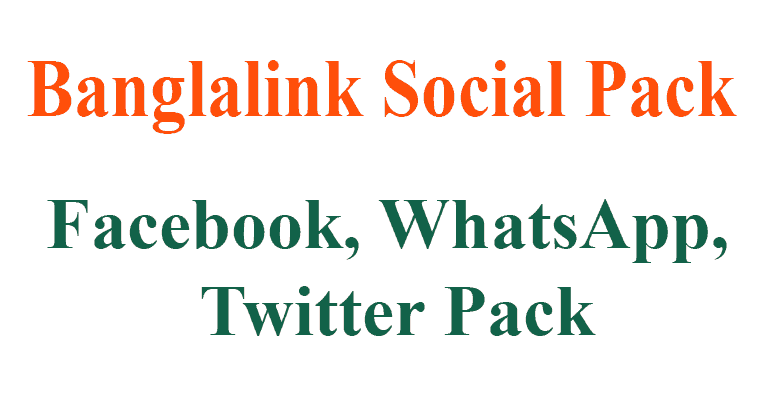 There is no limit to provide internet pack depend on consumer demand. So bl offers excellent internet offer for social media browsing as per consumer preferences. Now Banglalink subscribers are getting 30 MB social pack for only 1.5 Taka, this offer expiry date is 4 days. They also provided more internet services at a lower cost. You can dial *5000*414# to receive this offer. The internet expires 04 days. This 30 MB Internet can only be used on social media platforms. Internet data speed will depend on the type of device used and the speed of the network.
100 MB Social Pack: Banglalink has released a new social media pack for 7 days on their official website. This data pack contains 100 MB internet, which is worth only 7 Taka. However, you can use it on all social platforms. If you like this offer, dial *5000*576# to activate the offer. Expiration is 07 days.
Terms & Condition:
All Banglalink customers will be able to buy internet offers.
To check Internet balance dial * 5000 * 500 #
Purina can be purchased before expiry.
Source: Banglalink