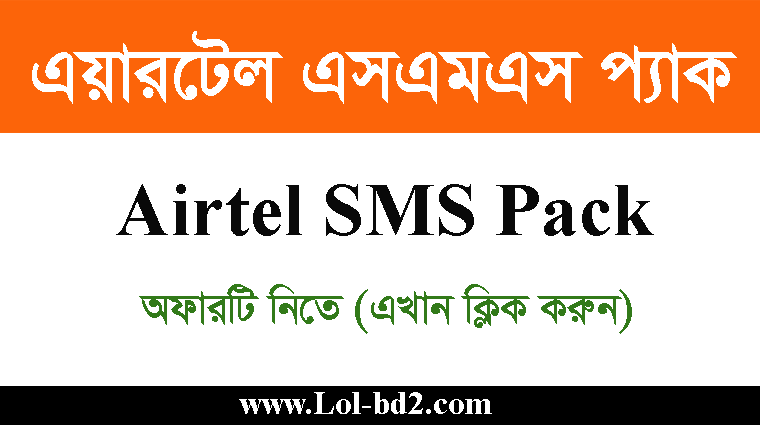 Are you looking for Airtel SMS Pack 2020? You are at the right place to buy your favorite SMS pack. Any users buy this all SMS pack . This SMS bundle pack can be purchased and used by all prepaid customers. Airtel has updated the SMS packs. They have already released some new sms offers. Check all offer and buy.
Check: Banglalink SMS Pack
You can buy Airtel SMS Pack 2020 for a longer period. Buy this SMS bundle and use it with any local operator ( Airtel to Any Operators ). Here we are try to provide the lowest price bundle offers. We believe you will benefit from purchasing these packs. You can pick up the package to communicate with messages.
Airtel SMS Pack 2020 – Here All USSD Code List
Here is a list of some Airtel SMS Pack 2020, which you can choose from this list if you want. This list provides some SMS offers. If desired, you can dial USSD Code given in the list.
| | | | |
| --- | --- | --- | --- |
| Total SMS | Active Code | Price | Validity |
| 50 | *321*200# | 2Tk | 12 Hours |
| 200 | *321*500# | 5Tk | 24 Hours |
Airtel 200 SMS offer:
Friends today I will talk to you in detail about Airtel 200 SMS offer. This is an excellent SMS Offer for all. Lot of customers have been searching this offer. I have provided this offer here. Do you want to buy 200 SMS only for 5 Tk? It will cost for you 5 Taka to get this pack. Here is a USSD code, dial this code and buy.
You can dial *321*500# to receive the offer.
Its duration is 24 hours.
Click: GP Social Pack 2020
Airtel 50 SMS 2 Taka:
All Airtel users ‍are go to on google and search for Airtel excellent SMS Pack. But they can't find the right place. But if you come to our website www.lol-bd2.com, you will find amazing SMS offers here.
Would you like to purchase Airtel 50 SMS for only 2 tk for 12 hours? But you can safely purchase Airtel SMS Pack 2020 from here. You must dial a USSD code to activate this offer.
If you would like to launch this SMS pack, dial *321*200#.
The SMS pack expires time 12 hours.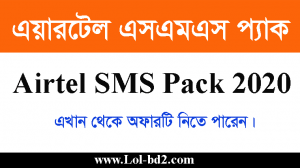 Airtel is the best company in Bangladesh. They offer Internet / SMS / Minute at the cheapest price. Release always great package as per customer's requirement. Customers are very pleased to receive their Internet / SMS / Minute offer. If you are a different SIM user then you can try Airtel service. You will be impressed with their service.
Check: Robi SMS Pack 2020
Terms & Condition:
During the campaign, all prepaid customers will be able to purchase.
You can buy multiple times.
Data pack can use 2G / 3G / 4G networks.
To SMS balance check for dial *121*1*4#.
With SD, VAT & SC Included.
Source: Airtel
Let us know by commenting how you feel about this post. If there are any questions you can ask. We are ready to answer. Share on Facebook, Twitter etc.