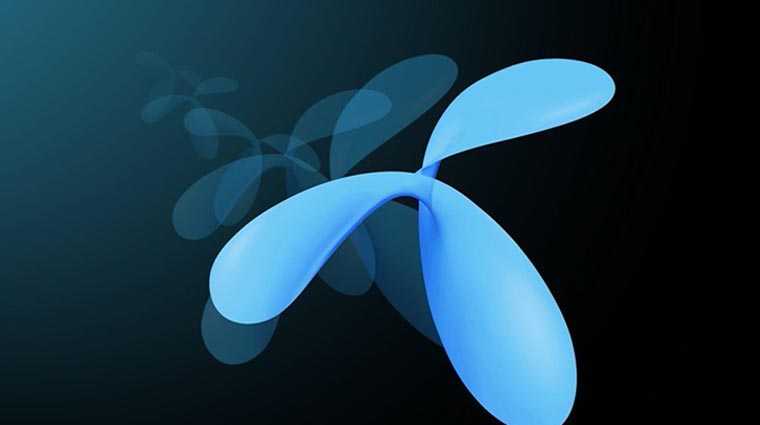 Welcome to GP 1GB offer 2020. Everyday GP gives customers new internet packages. GP 1GB Internet offers the most important for a customer. Everyone uses the Internet every day.
Sometimes at night and sometimes by the day. Most of them are used at night. Because we are busy during the daytime, we are free at night. At present, we cannot go on without the internet.
You look for low-cost internet offer. This is the right place for low-cost internet offers. Here is a low cost of the 1GB Internet offer package. I suggest you can purchase this offer. It is the best internet offer. Here is GP 1GB 9Tk, 1GB 12Tk, 1GB 17Tk, 1GB 86Tk get this offer. Any time can you buy this offer?
Check: GP SMS Pack
GP 1GB Offer 2020 :
GP 1 GB 9 TK :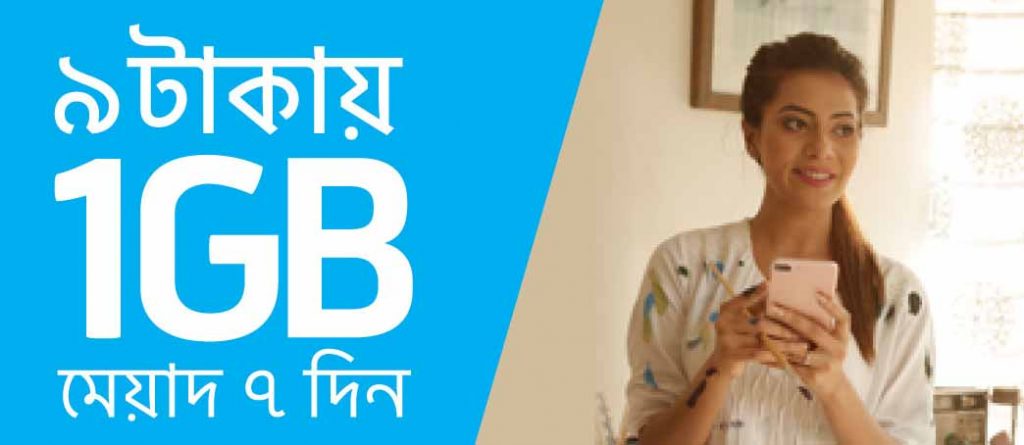 Now you can get 1GB internet only 9Tk. Everyone called this pack offers super internet. You can buy this offer. You can easily purchase the offer from our website. To get the offer dial *121*5085# or *5020*2217#. Internet validity is 28 days. You can buy the offer any time in 24 hours.
GP 1 GB 7 TK :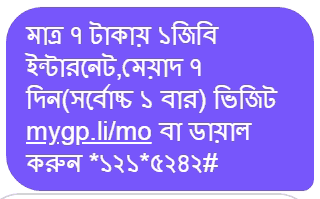 Hey, another 1 gb offer for GP users. GP excellent internet offer 2020. This offer not for all GP users but you must try to buy this pack. This internet pack is the cheapest offer on gramophone.
GP has released this great internet pack for all their customers on their official website. If you buy this GP 1 gb 7 taka for 7 days. Than dial this code dial this code *121*5242#. You also find this offer on MyGP apps.
GP 1 GB 12 TK Offer :
GP 1GB Internet only 12 Taka released the offer. This offer is for super internet customers. For those who use the Internet less, GP is offering it. You can try to get this offer. If you want to buy the offer dial *121*5174#. Expiration is 3 days. You can buy this offer maximum 5 times. So this great offer for you.
Link: Banglalink SMS Pack
GP 1 GB 14 TK :
Here is also available GP super internet offer. GP 1 gb internet 14 taka. Grameenphone provide this offer for their special users. If you buy this offer than must try to buy this post.
This offer is very popular. All GP customers want buy this pack. This offer expiry date is 7 days. There are two dial code if one is not correct than you also try other code dial *121*5030# or *121*5306#.
GP 1GB 17 TK :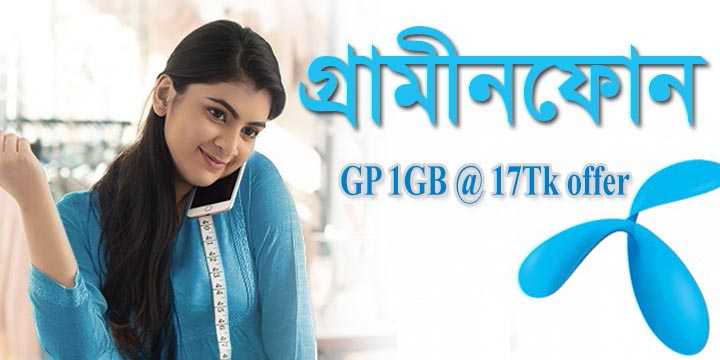 GP 1GB 17 Taka is the most popular internet package. Each customer can safely use this offer. Internet volume is 1GB. You can easily buy the offer by dialing USSD code. To start this offer dial *121*5003# or *121*5077#. Internet Validity is 07 Days.
GP 1GB 89 TK :
Welcome to your GP Regular Internet. GP 1GB Internet is only 89 Taka. All GP customers will be able to use this pack. The 1GB pack is a fast Internet offer. Each user can use the offer for download, browsing, Facebook and more. This data pack can run faster than other Internet packages. To get this offer dial *121*3056#. The internet expires 07 days.
GP 1GB Offer Terms:
All data Volume – 1GB Packs
You can buy multiple times.
All Prepaid & Post-paid customers will only need to buy using USSD code.
To internet balance check for dial *121*1*4#.
Data pack can use 2G/3G/4G networks.
With SD, VAT & SC Included.
More Pack :