Others
Teletalk Balance Check | Teletalk All USSD Code Here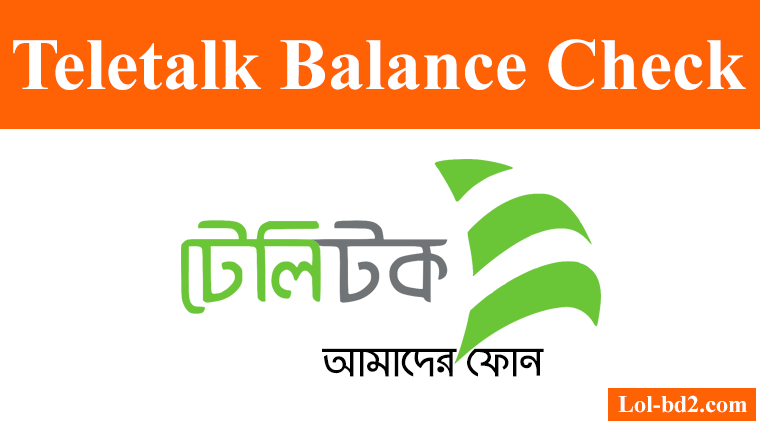 You forgot how to do Teletalk Balance check 2019. Don't worry. You can check the Teletalk balance from here. We forget about the USSD Code we need every day. And here are the important codes you forget.
Check: Teletalk Bondho SIM offer
You know, now Teletalk Balance needs a USSD code for checking. If you have this code you can easily check Balance. All the code given on this website is also available here.
Teletalk Balance Check

(All USSD Code):
| | |
| --- | --- |
| Name of the Company (Teletalk) | USSD Code |
| Balance check (015) | *152# |
| Internet | *152# |
| Minute Check | *152# |
| SMS | *152# |
| Customer Care | 121 |
Check-  Banglalink Bondho SIM offer 
Moreover, Teletalk has all the necessary code here. You can collect codes from this website if you need to. There are many USSD codes for each job, and they are very difficult to remember. You can bookmark these pages in your browser if you want. Will help you remember.
| | |
| --- | --- |
| Mobile Operator | USSD Code |
| GP (017) | *566# |
| Airtel (016) Bangladesh | *778# |
| Robi (018) | *222# |
| Banglalink (019) | *124# |
Also, you can see the USSD code for checking the balance of GP, Robi, Banglalink, Airtel SIM from here. If needed, use. I think the Teletalk Balance Check is very easy to do.
If you like the information we give you, then Facebook will share it and if you have any questions, please comment. The information provided here will certainly help.
Teletalk Bangladesh Limited:
BTRC controls all mobile network companies in Bangladesh including Teletalk. The BTRC was fully launched in 2001. They control every mobile network operator. Full name of this company – Teletalk Bangladesh Limited. Teletalk is a mobile phone service provider based in Bangladesh. It is a state-owned mobile company in Bangladesh. Teletalk began its journey on 29 December 2004. Many people in Bangladesh use Teletalk SIM. Bangladesh government is providing free Teletalk SIM to students. More and more internet is being provided to students at low cost. Currently, about 2 million people use Teletalk SIM. It is a Public Limited Company of the Government of Bangladesh.
More offer: