Airtel offer
Airtel Social Pack 2020 (Facebook & Instagram) 1GB Only 12 Tk 30 days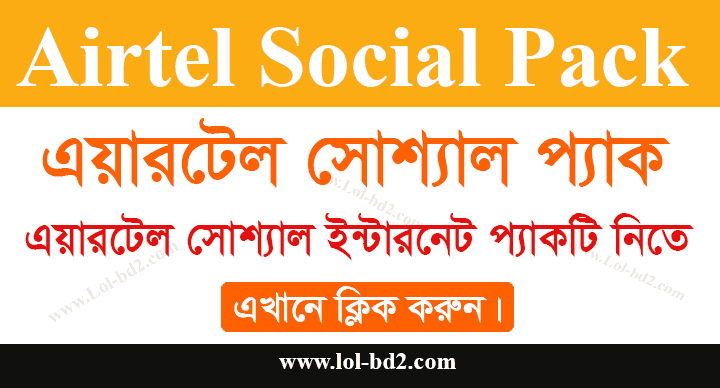 Today I will share with you the Airtel Social Pack 2020. It is a great internet offer. This Social Pack pack is Amazing for every customer. They search this Airtel Social Pack daily but can't find it. You can actually find Airtel Social Pack 2020 easily on this website.
Click: GP Social Pack 2020
With this amazing internet pack you can use Facebook, PUBG and Instagram. This pack has been published for a long time. Let's try to find out more about this pack from today.
| | | | |
| --- | --- | --- | --- |
| Data Packages | Data Price | Activation code | Validity |
| 1GB Social Pack | 12 Taka | *123*012# | 30 Days |
| 1GB PUBG | 33 Taka | *123*033# | 30 Days |
Airtel Social Pack 2020 (Facebook, Instagram):
For those who use Airtel SIM, they bring excellent internet packs! You can buy a super internet pack for cheap price from here. However, you can only use this pack for social media purposes. The details are given below:
Chack: Banglalink SMS Pack 2020
Airtel 1GB @ 12Tk offer:
You must understand what i have told you today. Airtel has provided 1 GB Social Pack for just 12Taka. Of all the social packs, this is an excellent offer and the best. The pack will cost only 12 Taka. This pack expires 30 days. If you would like to buy this offer, you will need to dial activation code. If you read the Article provided here, we will get the active code. Now if you think this is an amazing pack and it seems cheap, then you should buy the pack fast.
To get this offer Press * 123 * 012 #
Data Volume: 1GB pack
Data validity is 30 days.
Airtel is applicable to all prepaid and postpaid customers.
You can purchase multiple times.
To check Social Internet pack balance Press * 3 #
You can use 2G / 3G / 4G networks.
You can only use Facebook & Instagram. But Messenger is not included.
Click: Teletalk Internet package
Airtel PUBG Pack:
Airtel has just released the PUBG Games Pack to delight customers on the Internet. Currently customers are playing online games with internet packs. Airtel has come up with a PUBG data pack for them. The Airtel PUBG pack is 1GB internet with only 33 Taka. This PUBG Internet Pack expires 1 month (30 days). If you want to take the PUBG data pack, let's go to the powerful Airtel service. You can enjoy this excellent data pack. Dial the USSD Code and activate it.
To active this PUBG data pack Dial * 123 * 033 #
To get this PUBG Pack costs only 33 Taka.
PUBG data volume: 1GB
With this pack you can use PUBG Games.
All customers can avail this pack.
Get Now: Airtel Bondho sim offer
If Bangladesh offers the highest and lowest cost Internet / Minute / Social Pack / SMS then Airtel is the best. This company is an independent company run by Robi Axiata Limited of Bangladesh. This company was established on May 10, 2007. Airtel transferred it to Robi Company on January 6, 2016 due to low customer numbers. Currently run by Robi.
Main Office: Dhaka, Bangladesh.
Origin of parent company: Indian Airtel.
CEO: Mahtab Uddin Ahmed (1 November 2016)
Click: Banglalink Bondho SIM offer